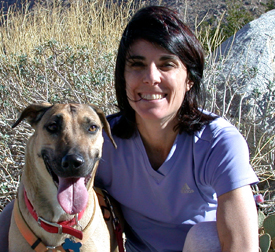 California native Lori Kirshner has always had a special place in her heart for animals. After establishing a successful Ophthalmology practice in Palm Springs, California, she then founded Desert Paws in 2000, a 501(c)3 non-profit organization dedicated to helping animals in need the Coachella Valley region. In 2011, Desert Paws became Advancing the Interests of Animals, to better reflect the growth and scope of the organization.
As host of Animals Today, Dr. Kirshner brings to the radio waves and internet a vibrant and thought-provoking show, featuring nationally and internationally renowned guests discussing and exploring all aspects of animals and their role in modern society.
In her spare time, Dr. Kirshner enjoys running, hiking, and vegan cooking. She lives in Palm Springs California with her husband, Dr. Peter Spiegel, and a small group of furry kids.